23 Aug

The Best Easy Christmas Cocktail Recipes
Unveiling Easy Christmas Cocktail Recipes
The holiday season is synonymous with joy, merriment, and coming together with loved ones. As you prepare to embrace the festivities, why not add an extra touch of enchantment with effortless yet exquisite Christmas cocktails? ABC Mixology presents a collection of easy Christmas cocktail recipes that promise to make your celebrations unforgettable. From timeless classics to modern marvels, these recipes are designed to bring joy to your gatherings without stress.
Simplicity in Sipping: The Magic of Easy Christmas Cocktails Recipes
The art of mixology is about crafting exceptional flavors and memorable experiences, all while keeping things simple. Christmas cocktail recipes easy encapsulate this philosophy, allowing you to focus on enjoyment rather than intricacies. With just a handful of readily available ingredients and straightforward techniques, you can create Christmas cocktail recipes easy that impress and delight without breaking a sweat.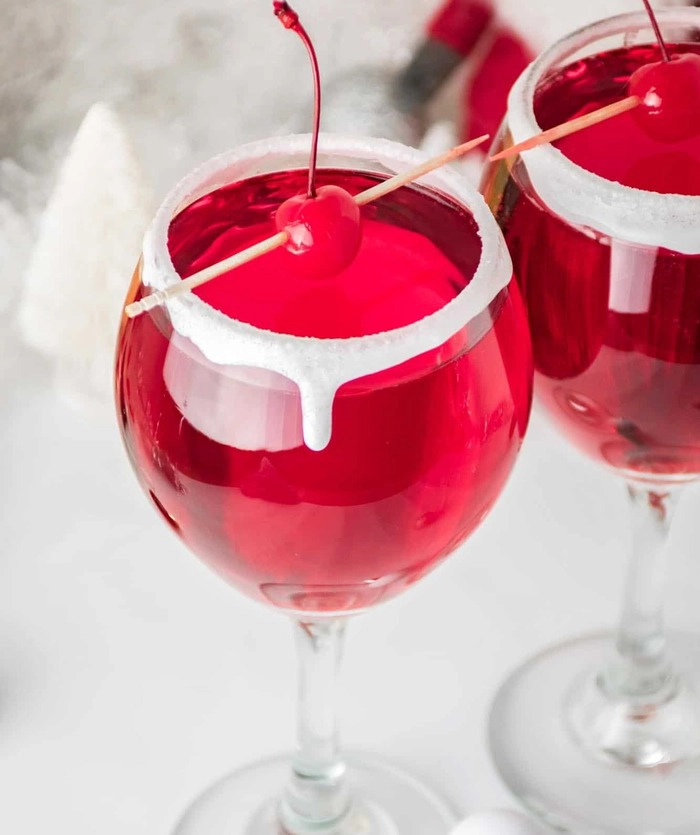 These easy-to-make concoctions embody the spirit of the holiday season, offering a comforting familiarity that warms the heart. A classic hot toddy, for instance, with its soothing blend of whiskey, honey, lemon, and spices, becomes a hug in a mug that's as easy to make as it is to enjoy. Or consider a cranberry spritzer, where the crispness of cranberry juice meets the effervescence of club soda, offering a delightful mocktail option that everyone can relish.
The beauty of these easy Christmas cocktail recipes lies in their accessibility. They embrace the notion that you don't need a fully stocked bar or intricate techniques to create something truly special. With just a few thoughtful touches, like a cinnamon stick garnish or a sugar rim, you can elevate the visual and sensory appeal of each drink.
Classic Comforts: Christmas Cocktail Recipes Made Easy
Cranberry Orange Mimosas

: Start your festivities on a sparkling note with these easy-to-make mimosas. Combine fresh cranberry juice, zesty orange juice, and your favorite bubbly for a refreshing and colorful drink that suits brunches and evening gatherings alike.

Holiday Spiced Sangria

: Elevate the spirit of Christmas with a pitcher of spiced sangria. Red wine, orange liqueur, and a medley of seasonal fruits come together for a drink that's as visually appealing as it is palate-pleasing.

Gingerbread White Russian

: Infuse the flavors of the season into a classic cocktail. By blending vodka, coffee liqueur, and gingerbread syrup, you create a drink that embodies the coziness of Christmas.
Modern Delights: Contemporary Christmas Cocktails - Easy Recipes
Pomegranate Rosemary Spritz

: Impress your guests with a contemporary spritz that combines pomegranate juice, rosemary-infused simple syrup, and sparkling water. It's a sophisticated yet easy-to-make cocktail that boasts a stunning presentation.

Frosted Peppermint Martini

: Capture the essence of winter with a Frosted Peppermint Martini. White chocolate liqueur, peppermint schnapps, and cream come together to create a creamy and indulgent sipper that's a breeze to make.

Cranberry Moscow Mule

: Give a festive twist to the classic Moscow Mule by adding cranberry juice and fresh lime. The result is a tangy and refreshing cocktail that's perfect for holiday gatherings.
Crafting Simplicity: Tips for Easy Cocktail Recipes for Christmas
Preparation is Key

: Before your event, gather and prepare your ingredients to streamline the cocktail-making process. This way, you can effortlessly assemble drinks as your guests enjoy the festivities.

Batch Cocktails

: Simplify your hosting duties by preparing batch cocktails in advance. Pitchers of cocktails like Holiday Spiced Sangria can be made ahead of time, allowing you to focus on mingling and enjoyment.

Garnish with Elegance

: Elevate the appearance of your cocktails with simple yet elegant garnishes. Fresh herbs, citrus twists, and seasonal berries can turn even the easiest cocktails into stunning works of art.
Making Memories, One Sip at a Time
Easy Christmas cocktail recipes not only enhance the flavors of the season but also create lasting memories. Imagine the laughter, the clinking of glasses, and the warm ambiance as friends and family gather to celebrate. These recipes aren't just about mixing ingredients; they're about mixing joy and connection.
As you serve up a sparkling cranberry punch or a velvety peppermint martini, you're not merely presenting a drink; you're serving up a vessel of merriment and nostalgia. Each sip becomes a thread that weaves through the fabric of shared moments, enriching the stories and laughter that will be cherished for years to come. The simple act of pouring a glass becomes an invitation to celebrate life's blessings and the bonds that tie us together.
Picture the clinking of glasses – a harmonious symphony of celebration. The flavors in these easy Christmas cocktail recipes mirror the rich tapestry of emotions experienced during the holiday season: the comforting warmth of cinnamon, the tangy burst of cranberries, the familiar embrace of eggnog, and the invigorating freshness of citrus. With every sip, the flavors become inseparable from the joyous memories formed around them.
Personalized Festivity: Customizing Your Easy Christmas Cocktails
Signature Sips

: Add a personal touch to your gatherings by creating a signature cocktail that reflects your style and preferences. Give it a creative name that resonates with the spirit of the season.

Mocktails Matter

: Ensure that everyone can partake in the festivities by offering non-alcoholic options. Transform easy cocktail recipes into equally delightful mocktails by omitting the alcohol and enhancing the flavors.